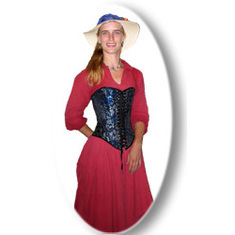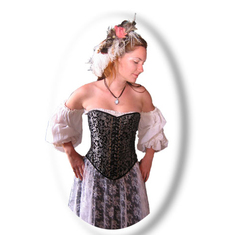 Our beautiful full Victorian Corsests are made with steel boning and are fully reversable. To order, please choose your size using the instructions below and then choose TWO fabric choices below and press the add to cart button. Price: $298.
As these are sewn to order, please allow 6-8 weeks for delivery.
The best way to find your size is to visit us on site and let us help fit you. Short of that, take a measurement of your natural waist (narrowest measurement between top of hips and bottom of ribs), and subtract 4 or 5 inches, whichever comes out even. There are two reasons for the subtraction. One, the corset WILL bring your size in, and two, you want to have three or four inches of separation in the back.